In the wake of an alleged gas attack on Douma, a rebel-held town near the Syrian capital, Damascus, there is mounting anticipation that retaliatory military action could be waged against Bashar Assad's government – which denies the use of chemical weapons.
But if the UK does back US-led strikes in Syria, what British hardware and weaponry would be at the military's disposal?
Tornado GR4
The Tornado has been carrying out air strikes in Syria and Iraq over the past few years, and is a likely option if allied strikes against the Assad regime go ahead.
Set to be retired from service next year, after almost four decades on operations, the Tornado, with a maximum speed of Mach 1.3, has also seen action in Libya, Afghanistan and Iraq.
It can be loaded with a mix of weapons which include Paveway II, III and IV series GPS/laser-guided bombs, Brimstone air-to-ground missiles and Storm Shadow air-launched long-range strike missiles.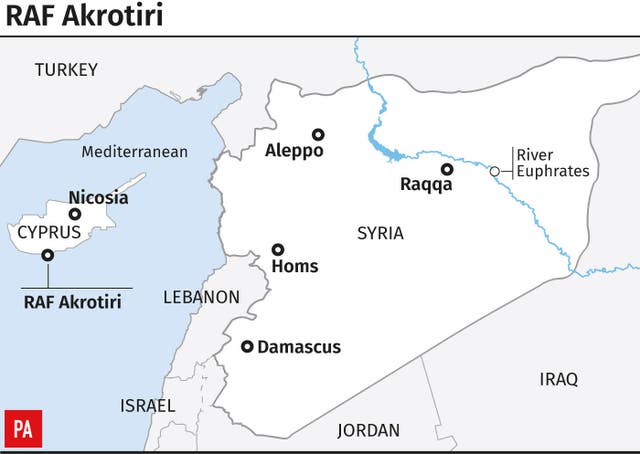 The main Tornado squadrons are based at RAF Marham in Norfolk, which will become the new home of the cutting-edge of the F-35 Lightning stealth fighter jets.
There are currently six of the jets based at RAF Akrotiri, Cyprus, a location some 315 miles (510km) from Syria.
Eurofighter Typhoon
With a maximum speed of Mach 1.8, the Eurofighter Typhoon was first deployed in combat in Libya in 2011, and is also the jet used for Britain's Quick Reaction Alert squadrons based at RAF Lossiemouth, Scotland, and RAF Coningsby, Lincolnshire, with a presence also in the Falkland Islands.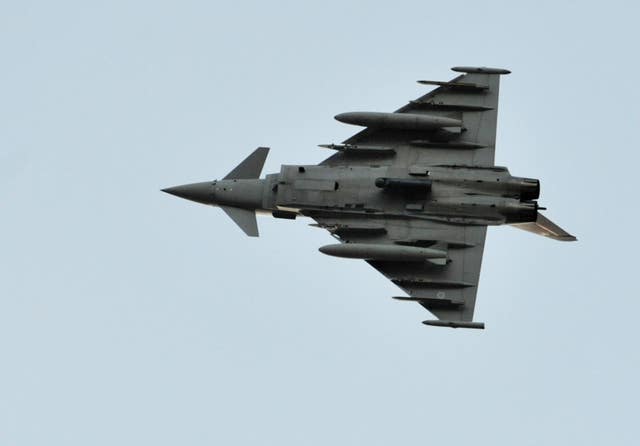 Typhoons are armed with an internal 27mm Mauser cannon, plus Advanced Short Range Air-to-Air Missiles, as well as Enhanced Paveway II and Paveway IV precision-guided bombs.
Future weapons on the jet will also include Storm Shadow and Brimstone, as well as Meteor air-to-air missiles.
There are currently eight of the jets based at RAF Akrotiri in Cyprus, used in the air campaign against Islamic State in Iraq and Syria.
Submarines
Another potential option could be to use Tomahawk cruise missiles launched from Royal Navy attack submarines.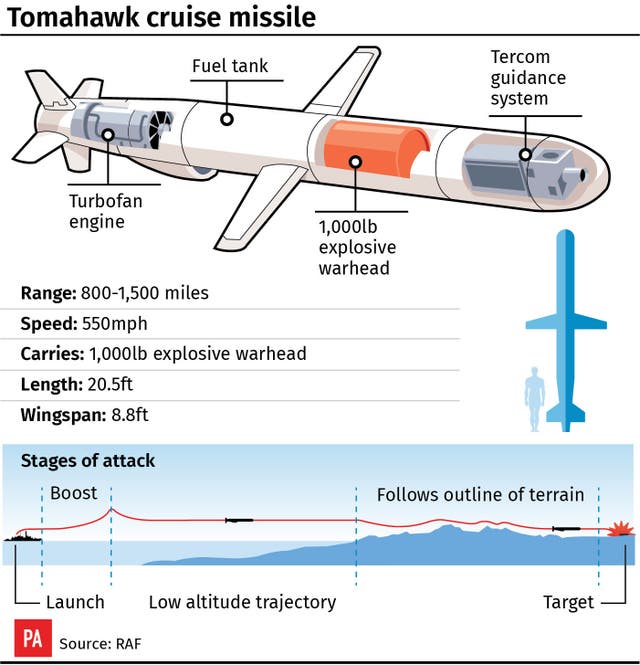 British submarines have been equipped with the missiles since the late 1990s.
The Tomahawk IV has a range of well over 1,000 miles (1,610km) and can be redirected to a new target in mid-flight – it is known as a strike first weapon and could be a likely option for use in Syria as they can be launched unalerted.
Used during operations in Afghanistan, Libya and Iraq in 2003, it is understood there is always a submarine available to be deployed for such tasks, and one could be sent to the Eastern Mediterranean should it be required.
Which weapons could be used?
Storm Shadow cruise missiles
Described as a "long-range deep-strike weapon" by MBDA systems, which produces the missile, the company states on its website that it is "designed to meet the demanding requirements of pre-planned attacks against high-value fixed or stationary targets".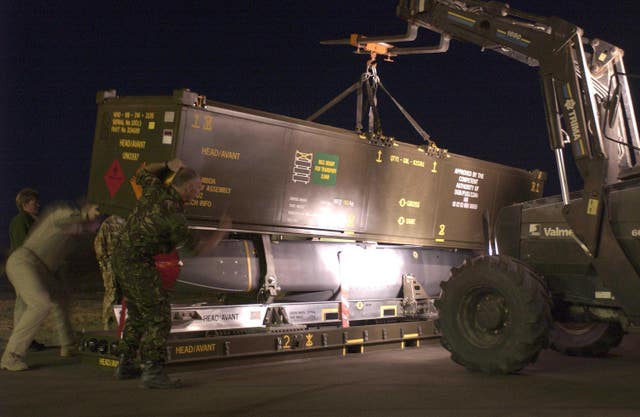 Weighing in at 2,866lb (1,300kg), measuring 16.7ft (5.1m) in length and with a range in excess of 150 miles (240km), it is operated from Tornado jets and in future will be carried on Eurofighter Typhoon.
The long-range air-to-surface missile, designed as a "bunker buster", is understood to be the weapon likely to be used if allied military intervention in Syria is agreed upon, and could be useful to potentially penetrate underground chemical weapon stockpiles.
It was first brought into service in 2003 and has previously been described by the RAF as "arguably the most advanced weapon of its kind in the world".
Paveway bombs
The RAF said Paveway IV "offers huge tactical flexibility", and, as the impact angle and direction can be programmed from the cockpit, it gives a "precisely tailored strike on planned and unplanned targets".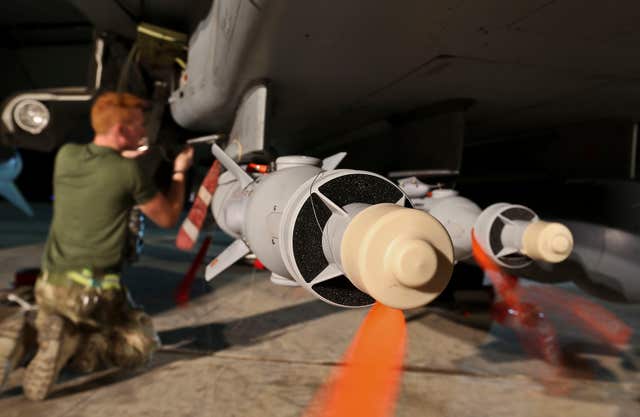 As an air-to-surface weapon it offers improvements over older weapons, including greater accuracy. It requires no maintenance, has a higher resistance to GPS jamming and a lower cost.
But to be effective, the jet carrying it has to be over or within vicinity of the target, which could mean the aircraft it is being launched from becomes vulnerable to surface-to-air retaliatory missiles or fire.
Brimstone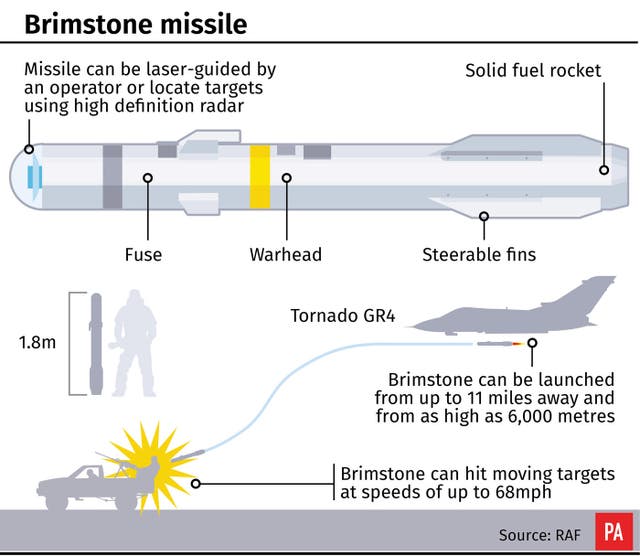 Noted as a "precision attack weapon" by Stevenage-based MBDA, the company said Brimstone can be used to target fast-moving vehicles, tanks, armoured cars and bunkers, as well as naval vessels.
Each missile weighs 110lb (50kg), measures 6ft (1.8m) and is 7in (180mm) in diameter, and is a short-range missile.