Sugary drinks will be banned from hospital shops next year unless action is taken to cut their sales, NHS England has announced.
Cans and bottles of sugary soft drinks will be targeted, as well as sugary drinks made in NHS cafes and canteens such as coffees with sugar syrup.
Other drinks that will be hit by the move are those with added sugar, including fruit juices with extra sugar, and sugary milk drinks, depending on their total milk content.
NHS England said such drinks would be banned unless further voluntary action is taken to cut sales.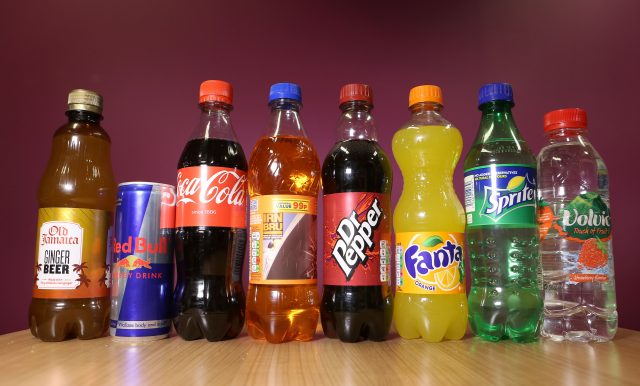 Firms that have agreed to reduce sugary drinks to 10% or less of total drink sales in their hospital shops include WH Smith, Marks & Spencer, Greggs and Subway.
Medirest, which supplies NHS hospitals with ready meals and brings in chains such as Costa, is also on board, as is ISS, which supplies food for patients, staff and visitors, and the Royal Voluntary Service, which runs some hospital shops.
NHS England chief executive Simon Stevens said: "A spoonful of sugar may help the medicine go down but spoonfuls of added sugar day-in, day-out mean serious health problems.
"It's great that following discussion with NHS England, big name retailers are agreeing to take decisive action, which helps send a powerful message to the public and NHS staff about the link between sugar and obesity, diabetes and tooth decay."
NHS England has already announced measures to improve healthy eating in hospitals, including axing deals on sugary drinks as well as those for salty, fatty or sugary foods.
Retailers have also been told to remove these foods from checkouts, while healthy food should be made available at all times, including to staff working night shifts.
Almost 700,000 NHS employees out of 1.3 million are thought to be overweight or obese.
Other targets that should be met by April 2018 include 60% of confectionery and sweets in shops not exceeding 250 calories, increasing to 80% of these products in 2018/19.
Katherine Button, the co-ordinator of the Campaign for Better Hospital Food, said: "We are delighted that NHS England has taken such decisive action to reduce the sale of sugary drinks in hospitals.
"NHS hospitals are trusted by patients, families and staff to keep them fit and well and NHS England is helping everyone to take a big healthy step in the right direction."
He said people with diabetes, who sometimes need sugary drinks to quickly raise their blood sugar levels, would still have access to them.
Gavin Partington, director general of the British Soft Drinks Association, said: "It makes sense to promote sales of healthier options in hospitals but not to focus on soft drinks, the only food and drink category which has seen a significant reduction in consumer sugar intake, down by over 18% since 2012.
"It's also worth remembering that while sugar intake from soft drinks has been falling, obesity levels have been increasing.
"However, it's good to see NHS England taking a pragmatic approach to the issue by including all drinks that contain added sugar – milk-based drinks and coffee – but still allowing consumers a variety of options."